Nava SIEM Agent – Seamless cloud security
Simple, Unique, Flexible, Powerful
Nava SIEM Agent unifies cloud and on-premise security by forwarding cloud-based service provider logs to your favorite log-management and/or SIEM service.
Comply with regulations by archiving cloud logs
Analyze your cloud logs for indicators of intrusion
Conduct incident response and forensics using cloud logs
Request Quote!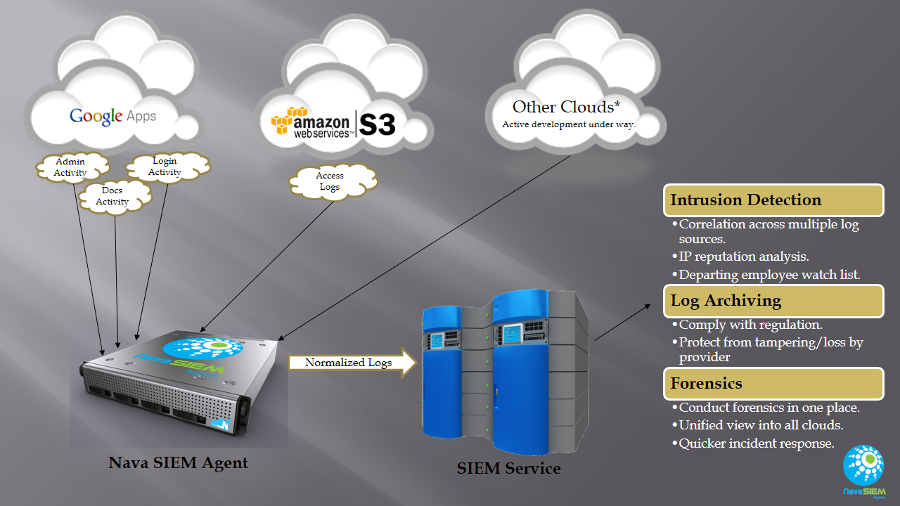 Get This
Amazing Product

Now! See Details Below!

This is where your amazing product promotion text But It Now! can go so your viewers Like you! can read about how awesome it is!
Some of Nava SIEM Agent key features are:
Retrieving Google Apps and Amazon S3 audit logs
Archiving the audit logs
Ability to export the logs to the known formats
Real time output to Windows Event Logs
Supported sources
Currently Nava SIEM Agent supports Google Apps Admin Console audit logs and Docs audit logs.
Google Apps: Admin Activity
By default, any activity performed by an administrator in Google Apps is logged as part of the Google Apps Admin Audit logs. All 17 different types of administrative actions currently available are supported by Nava SIEM Agent:
APPLICATION_SETTINGS
CALENDAR_SETTINGS
CHAT_SETTINGS
CHROME OS_SETTINGS
CONTACTS_SETTINGS
DELEGATED_ADMIN
DOCS_SETTINGS
DOMAIN_SETTINGS
EMAIL_SETTINGS
GROUP_SETTINGS
LICENSES_SETTINGS
MOBILE_SETTINGS
ORG_SETTINGS
SECURITY_SETTINGS
SITES_SETTINGS
SYSTEM_SETTINGS
USER_SETTINGS
Google Apps: Google Docs Activity
Google Apps administrators may not be aware that Google supports audit logging of all Google Docs activity. This includes events such as viewing a Google Document or editing one. The logs contain valuable information on the source IP of the event, the user performing the activity, and the unique ID of the Google Document being modified/accessed.
Supported Output Types
All of the retrieved audit logs will be outputted to either Windows Event Logs, text file format or both depending on user's choice.
Software Prerequisites
There is only one software prerequisites to install Nava SIEM Agent:
Microsoft .Net Framework 4.5 or higher
Downloading and Licensing
You can download a 5 day free trial version of the product from Linkgard.